Event Details
Some say that the world we live in is in chaos.
Yes, it's unstable and rapidly changing. But this volatility is spawning some of the most exciting and inspiring ideas the world has ever seen.
The future is right here, right now… and it's bright!
The planning and environment community has a significant impact on shaping the world in which we live. Now is the time to stand up, celebrate what is great now, and embrace our role in the future that is upon us, by using our diverse knowledge and experiences to weather the instability, inspire innovation, and create exciting outcomes for current and future generations.
The 2018 QELA Conference will feature optimistic and thought-provoking speakers who will share their ideas, innovations, perspectives and contributions on the future – a future that is right here, right now.
---
Registration prices shown below exclude GST. GST will be added during the payment process.
Full Conference registration includes registration to both dinners. Wednesday day registration includes registration to Welcome Dinner. Thursday day registration includes registration to Gala Dinner.
2018 QELA CONFERENCE
PROGRAM
The 2018 Conference program features 34 speakers over three days and is capped by energetic, innovative keynote addresses by Future Crunch and Dr Catherine Ball.
To view the full program, download here.
Opening Keynote
FUTURE CRUNCH
Dr Angus Hervey, a political economist, and Tané Hunter, a cancer researcher, are the dynamic duo better known as Future Crunch.
Incredible things are happening on our planet. Diseases are being eradicated, millions are being lifted out of poverty, billions of people are gaining access to the greatest Information resource humanity has ever known. We can use open source code to print prosthetic limbs, we can cut and paste our DNA, and we're taking bold new steps into space.
Future Crunch believes that disruptive technologies are bringing about a world that is more peaceful, transparent and abundant. They are determined to share a narrative that breaks through negatives perspectives regarding the state of the world as we know it.
---
Closing Keynote
DR CATHERINE BALL
Dr. Catherine Ball is an innovator and science consultant, specialising in projects where robotics and new technology meet environmental protection. A sought after voice in industry, Dr. Ball is now working with the application of Remotely Piloted Aircraft Systems (RPAS), aka drone technology, for environmental monitoring.
Dr. Ball's biggest passion is found working on projects that have a humanitarian aspect, ranging from the use of RPAS for emergency response, to recording cultural heritage, and agricultural assessments.
Dr Ball holds a BSc Honours (Environmental Protection) and a PhD (Spatial Ecology, Descriptive and Predictive Statistics).
VENUE
SHERATON GRAND MIRAGE RESORT
71 Marine Drive, The Spit, Gold Coast
Sheraton Grand Mirage Resort offers delegates a 5 star luxury experience at the Gold Coast's only beachfront resort.
Set amongst 6 hectares of sparkling lagoons and tropical gardens, the Resort features 295 rooms and suites and exquisite dining.
The Sheraton Grand Mirage Ballroom provides Conference delegates an elegant 'home' for the three days of conferencing.
---
ACCOMMODATION
SHERATON GRAND MIRAGE RESORT
Stay close to the action by booking accommodation at the Sheraton. 2018 QELA Conference delegates can access a group booking rate of $270 per night, including full buffet breakfast for one.
Bookings can be made via the Sheraton online booking site
https://www.starwoodmeeting.com/Book/QELA.
ELSEWHERE
Further accommodation is available at Main Beach, 1.5km south of Sheraton Grand Mirage Resort. There are options from standard hotel rooms to 2-3 bedroom apartments.
WELCOME BBQ DINNER
POOLSIDE, SHERATON GRAND MIRAGE RESORT
6pm, WEDNESDAY, 23 MAY 2018
Join us Poolside for the traditional QELA Conference Seafood BBQ dinner.
Sheraton Grand Mirage Resort's poolside lawns are adjacent to the beach, providing a perfect backdrop for catching up with colleagues and making new acquaintances.
The seafood BBQ buffet dinner will provide a 5 star array of local produce and cater for all dietary requirements with ample selection of salads and non-seafood options.
Registration to the Welcome BBQ Dinner is included in Full Conference and Single Day – Wednesday registrations. Additional Welcome BBQ Dinner tickets may be bought at $110 per person.
---
GALA DINNER
PARADISE ROOM, THE ARTS CENTRE
6pm, THURSDAY, 24 MAY 2018
Step aboard the charter boat, MS Empress, for pre-dinner drinks and a peaceful canal cruise to our Gala Dinner destination, The Arts Centre.
On arrival at The Arts Centre, enjoy award winning 3 course dining in the Paradise Showroom. A first-class venue, the Paradise Showroom opens onto a large terrace with views overlooking the lake, the Nerang River, Sculpture Walkway and Surfers Paradise skyline.
Bus charter will be transport guests back to Sheraton Mirage, or continue the after party at bars in Surfers Paradise.
Registration to the Gala Dinner is included in Full Conference and Single Day – Thursday registrations. Additional Gala Dinner tickets may be bought for partners and guests at $150 per person, including transfers.
Cancellation before 23 April 2018
Should your circumstances change and you are unable to attend the Conference as per your registration, you must advise QELA in writing via info@qela.com.au no later than 30 days prior to the commencement of the Conference.
A cancellation fee of $110.00 inc GST will apply to cover costs incurred in relation to your registration and cancellation costs.
Cancellation after 23 April 2018
Should you cancel less than 30 days prior to the commencement of the Conference, no refund will be payable, however an alternative delegate name may be provided in writing and the booking and funds will be allocated accordingly.
Notification of Cancellations and Delegate Changes
Verbal changes or cancellations cannot be accepted. Please advise in writing to via info@qela.com.au.
Refunds on functions not taken
Please note no refunds or discounts will be made to registration prices if an inclusive function within the registration fee is not taken up by the delegate.
Refunding Method
The refund will be returned via the same payment method as the original receipt of funds. Please allow for 3-7 working days for refunds to be processed.
Where there is extenuating circumstances a refund outside of these terms may be considered by, and at the discretion of, the QELA Management Committee.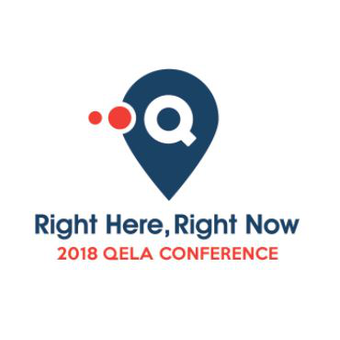 Sheraton Grand Mirage Resort, 71 Sea World Drive, Main Beach, Gold Coast QLD 4217, Australia